Candy Darling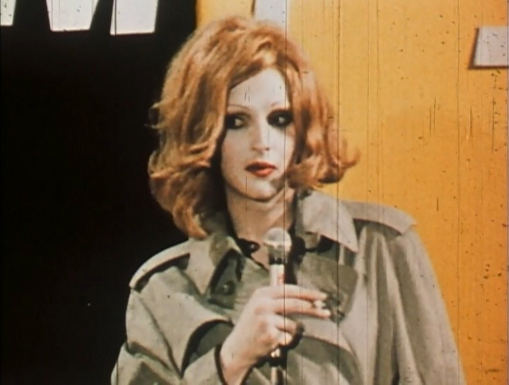 Brand X Candy Darling in What's My Sex

Candy Darling was born James Lawrence Slattery on November 24, 1944 in Forest Hills, Queens, New York, U.S. and died aged 29 in 1974. Candy spent much of her childhood watching television and old Hollywood movies, from which she learned to impersonate her favorite actresses, such as Joan Bennett and Kim Novak. In 1961 she signed up for a course at the DeVern School of Cosmetology in Baldwin, on Long Island and soon revealed an inclination towards cross-dressing. She assumed the name Hope Slattery sometime in 1963/1964 after she started going to gay bars in Manhattan and making visits to a doctor on Fifth Avenue for hormone injections. Holly Woodlawn remembers that Darling's name evolved from Hope Dahl to Candy Dahl and then to Candy Cane. Before they met, in 1967, Darling saw Andy Warhol at the after-hours club called The Tenth of Always. Candy was with Jackie Curtis, who invited Warhol to a play that she had written and directed, called Glamour, Glory and Gold, starring Darling, as "Nona Noonan", and a young Robert De Niro, who played six parts in the play. It was performed at Bastiano's Cellar Studio on Waverly Place. Taylor Mead brought Warhol to see it and afterwards he went to the club Salvation in Sheridan Square, where he was joined by Candy and Curtis at his table.

Warhol cast Darling in a short comedic scene in Flesh (1968) with Jackie Curtis and Joe Dallesandro. After Flesh, Candy was cast in a central role in Women In Revolt (1971). She played a Long Island socialite, drawn into a woman's liberation group called PIGS (Politically Involved Girls), by a character played by Curtis. Interrupted by cast disputes encouraged by Warhol, Women in Revolt took longer to film than its predecessor and went through several title changes before it was released. Candy Darling went on to appear in BRAND X, by Wynn Chamberlain; in Some of My Best Friends Are... in 1971. Also in 1971 she had a small role in Klute with Jane Fonda and in Lady Liberty with Sophia Loren. In 1971 she went to Vienna to make two films with director Werner Schroeter; The Death of Maria Malibran, and another one that was never released. Her attempt at breaking into the mainstream movie circuit, by campaigning for the leading role in Myra Breckinridge, (1970) led to rejection and bitterness.

Her theatre credits include two Jackie Curtis plays, Glamour, Glory and Gold (1967) and Vain Victory: The Vicissitudes of the Damned (1971), She was also in Tennessee Williams' play, Small Craft Warnings, at the invitation of Williams himself. She starred in the 1973 Off-Broadway revival of The White Whore and the Bit Player, a 1964 play by Tom Eyen. Darling's character, a Hollywood actress known only as "the Whore", was based on Marilyn Monroe.

Darling died of leukemia on March 21, 1974, aged 29, at the Columbus Hospital division of the Cabrini Health Center. Her funeral was attended by huge crowds, including Gloria Swanson who saluted Darling's coffin.

Candy Darling was first portrayed by Stephen Dorff in the 1996 film I Shot Andy Warhol.

A feature length documentary on Candy, titled Beautiful Darling, premiered at the Berlin International Film Festival in February 2010. The documentary features archival film and video footage, photographs, personal papers, archival audio interviews with Tennessee Williams, Valerie Solanas, Jackie Curtis and Candy's mother, as well as contemporary HD interviews with Holly Woodlawn, Fran Lebowitz, John Waters, Julie Newmar, Peter Beard and Taylor Mead. Chloë Sevigny narrates the film, voicing Candy's private diary entries and personal letters. The film was directed by James Rasin and produced by Jeremiah Newton and Elisabeth Bentley.